At Uroko, we cater three different concepts in one small storefront: casual counter-service Temaki (hand roll) bar, sushi class space, and weekend 45-minute sushi omakase.
These are all led by chefs Masazumi Saio and Takehiro Asazu. Masa and Také are dedicated to selecting the freshest ingredients possible and adding the sophistication of their skills to give our guests an exclusive culinary experience at an affordable price.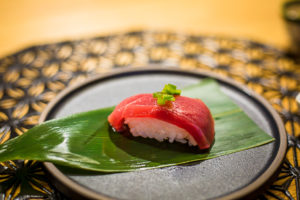 Omakase
On Monday, Friday, and Saturday nights, our space turns into a small sushi Omakase restaurant.
It is a reservation-only, 45-minute Omakase style sushi dinner. It's quick but you can enjoy the chef's techniques right in front of you with carefully chosen ingredients.
This quick reservation-only concept allows you to enjoy a delicious sushi dinner, and leave you time to do other things on your weekend nights!
Temaki
"手巻き" means handroll – these are similar to regular sushi rolls with the same ingredients and sushi rice inside, but instead of cylinder-shaped which is cut into pieces, temaki are cone-shaped. It's a single larger piece that you can easily hold and eat with your hands.
This super-casual style is a quick and fun style of sushi.